---
AMAZING & BEAUTIFUL HOTEL

We frequently get away to Nauvoo and have stayed here several times. The Woodruff Hotel is the best! What's not to like; cozy, comfortable accommodations and post card views. Great location near the Temple and just a short walk to the sites. Oh, yes, and outstanding, thoughtful owners who went out of their way to make sure we were comfortable.

Peoria, IL
BEST HOTEL IN NAUVOO

After arriving, we decided to take a walk to see Nauvoo but we didn't even make it out of the hotel . . . we started exploring all the history and art in and around the building. It was amazing !! Getting back to our room in this historic hotel was the perfect ending to a great day touring. We can say with confidence that this is the best place to stay not only in Nauvoo, but in the entire area.

Perry, GA
THEEEEE PLACE TO STAY IN NAUVOO

The Woodruff Hotel is theeeee place to stay in Nauvoo. Wonderful comfortable room, very helpful, informative and friendly owners. This hotel has inspirational character, great history and harkens back to Nauvoo in it's early day. This was my second time staying at the Woodruff hotel. This time I brought my friend who enjoyed the hotel and area as much as I did.

Cardwell, MO
THANK YOU, WE LOVED OUR STAY!

We checked in after a long drive. It was a relief to find such a lovely hotel. We stayed in the historic section of the hotel and loved all the history and ambiance. Our room was just right. Thank you

Granbury, TX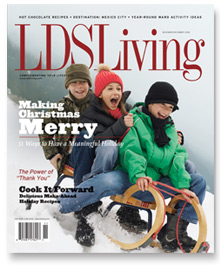 VOTED - BEST HOTEL IN NAUVOO

The Woodruff Hotel was honored with the BEST HOTEL IN NAUVOO by Midwest Living Magazine three years in a row. We were happy to also be featured in their article about top things to do in Nauvoo and our restaurant was listed as one of the best places to eat. We are happy to be recognized among the hotels in Nauvoo as one of the top hotels.

LDS Living Magazine
WONDERFUL HOTEL, EVEN BETTER STAFF!

This hotel was part of what made our trip to Nauvoo so wonderful. The town of Nauvoo is historic and there are many things to do. Best of all they're all FREE. Our hotel was perfectly located which made the stay that much better. Our room was very clean, and felt like a home with all the nice furniture. We had a view that was breathtaking. We wish we could have had an elevator after long days but we were in the historic section where there is not one. They did have an elevator in the other area. But really could not have been a better place.

New York, NY
BEST HOTEL & VERY NICE PEOPLE

We stayed in room 301 and had a view of the Temple from our room. We walked everywhere. It was a beautiful hotel and loved the ambiance of staying in a historical building. We'll stay in this hotel every time we visit Nauvoo! There isn't an elevator. It's a small hotel so It's not busy, it was perfect.

Elgin, OK
YOU'LL BE HAPPY YOU STAYED HERE!!

When my family and I have traveled in the past we've always been a little skeptical about staying in historic buildings because you never really know what that could mean, but the Woodruff hotel was beyond comfortable and we had a really lovely stay. They had pretty much every comfort something like a new Courtyard Marriot would but the buildings and location were way more interesting and the staff was so accommodating and nice. Definitely and highly recommend staying there if you're traveling to Nauvoo.

Sackville, CANADA
TWO WORDS, IN LOVE!

This historic hotel is gorgeous. It's got central air and the bed is coooomfy. It is close to everything you need. I'm so excited to have a beautiful place to stay in this historic, holy city. Each window has a great view. We had dinner at the hotel nauvoo and we were very satisfied. I'd stay here, or recommend this place in a heartbeat.

St. George, UT
BEST HOTEL IN THE SMALL CITY OF NAUVOO

There are only like three hotels in Nauvoo. We almost stayed in the next town but saw this hotel online. We are so glad we stayed here. The location is the best in the city and the owners actually are part of the staff that runs this place. We were greeted by the owner himself when we arrived, The rooms are larger than any hotel we have ever stayed in. They say its because they get families in the summer who like bigger rooms. Clean rooms, comfortable beds, and attentive staff. Who can ask foir more? We stayed in December so the town was quiet and easy to get around. We would recommend this hotel without hesitation. They have rooms with views and some that don't. We had one with a view and its worth asking about.

Conyers, GA
ELEGANT & COMFORTABLE

We were amazed at the value! What a lovely place to stay for such a good price! The facilities were all in good working order, and the beds were clean and comfortable. We loved the view of the temple from our rooms. We would definitely recommend this hotel to anyone. We would only suggest a few dishes in the kitchenette area. Other than that we have nothing but praise for this hotel and the friendly staff.

Pleasanton, CA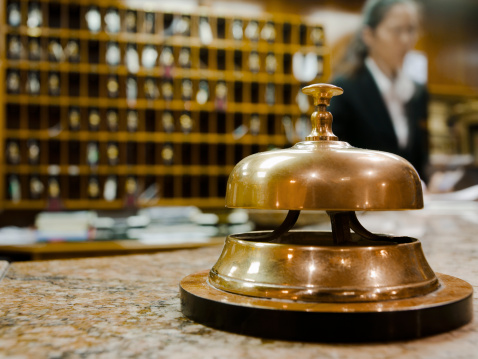 NEW 4-BEDROOM SUITE OPENED

The Woodruff Hotel is pleased to showcase our newest 4-bedroom suite opened in 2016. The Woodruff has several large suites from 2-bedrooms upto a 5-bedroom grand family suite. This perfect addition makes it easier for families traveling to Nauvoo to find the right room. Please feel free to ask about this suite when making a reservation. This suite has four bedrooms, two bathrooms and a living room area.
OUR FAVORITE HOTEL EVER !!!

A beautiful hotel with great friendly service. Check-in was seamless (drove in to Nauvoo from St. Louis late) Had some trouble with booking online but she made sure everything was sorted out giving us plenty of options and everything was fine.

Conyers, GA
BEST HOTEL & VERY NICE PEOPLE

We love this place! It is so beautiful and filled with history! There are many room choices, so it would be a matter of preference. The grounds are spectacular and the people who run this place were so very nice.

St. Andrews, Canada
FANTASTIC !! THANK YOU WOODRUFF HOTEL

The rooms our family had at this hotel were the best rooms we have ever stayed in. The hotel was historic and full of ambiance. We had a few rooms each with views of the Temple and city and large walkout balconies. What a hotel gem right in the center of Nauvoo. We would be the first to recommend this hotel and we will for sure stay again when we come.

Provo, UT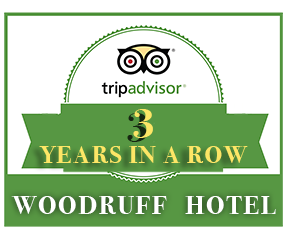 3 YEARS IN A ROW WINNER !!!

The Woodruff Hotel is pleased to be recognized by our peers with this Certificate of Excellence. We work hard to get great reviews by both our guests and our industry partners. Thank you to our guests who have taken time to give us great reviews and Trip Advisor for this award!! We are happy to be recognized among the hotels in Nauvoo.

TRIP ADVISOR CERTIFICATE OF EXCELLENCE
BEST VIEW IN THE WORLD

Imagine our shock when we pulled up to the Woodruff Hotel in Nauvoo and saw how close we were to the whole reason we came to Nauvoo - the Nauvoo Temple. When we went up to our room and walked out on our balcony we were in awe and tears. An absolutey beautiful view!! Thank you Woodruff Hotel.

Layton, UT
GREAT VIEW & WONDERFUL LOCATION

Perfect for our family of 5 - This hotel has the small town, authentic old building feel, without feeling like you're staying in an old house. We stayed in a deluxe guest room which had two queen size beds and a rollaway bed. We were on the third floor and had a little balcony with a beautiful view of the Nauvoo LDS Temple. The room was spacious and very clean. The beds were very comfortable.

Thornton, CO
THANK YOU ALL AT WOODRUFF HOTEL

Our family loved your hotel and we are so happy we stayed here. We will be back soon and look forward to staying with you again.

SLC, UT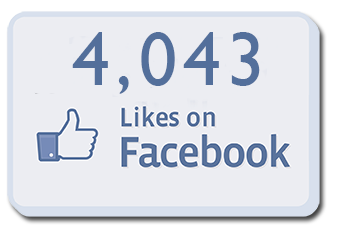 MOST FACEBOOK LIKES 4,043 OF ANY NAUVOO HOTEL

The Woodruff Hotel is the most "FACEBOOK LIKED" hotel in Nauvoo. We are pleased to find that young people who stay with us are more and more recommending us on a variety of social media. Being liked on Facebook is a big compliment to our Nauvoo hotel staff. Thank you to all those who continue to make that number grow - check facebook to see where we are today!!

FACEBOOK USERS
YOUR HOTEL MADE OUR WHOLE TRIP!

The staff was so kind and helpful and we enjoyed the views of the Nauvoo Temple from our balcony. Our family will ever be grateful for the time we spent in Nauvoo and you guys made it that much better. Of all the hotels in Nauvoo we are so glad we stayed here.

Torrance, CA
ONE STOP SHOP FOR NAUVOO WEDDINGS

We had a great stay in a clean comfortable room. The owner was very involved and went above and beyond to accommodate our large, crazy family. The gallery was perfect for the wedding reception. The food they catered was exceptional. Truly a great one stop shop for getting married in Nauvoo. P.S. They make amazing chocolate chip cookies.

Auquasco, MD
WOW !! GREAT HOTEL IN NAUVOO!!

Thank you very much for a beautiful stay in a beautiful city. We were looking for a quick get-a-way to Nauvoo and we found your hotel. Best we have ever stayed in. Thank you so much for the great art gift and the weekend we will always remember.

Macomb, IL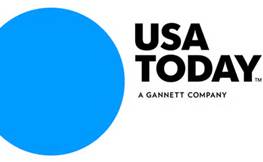 THE WOODRUFF HOTEL REVIEWED IN USA TODAY NEWSPAPER TRAVEL SECTION

"The Woodruff Hotel is one of the most comfortable places to stay in Nauvoo" according to USA TODAY and "The Woodruff offers guests balconies and impressive views of the nearby Nauvoo Temple."

The Woodruff Hotel is proud to receive a great review in the USA TODAY travel section. We work hard to provide guests great service and comfortable rooms.

THANK YOU - USA TODAY !!!

USA TODAY NEWSPAPER
BEST, BEST, BEST HOTEL IN NAUVOO!!

You have the most amazing hotel we have ever stayed in. Best, Best, Best Hotel in Nauvoo - Loved the history and feeling of the whole place - and the art !! SMILE

Lincoln, NB
HOTEL WAS SUCH A DELIGHT!!

You're hotel was such a delight - our parents are serving a mission in Nauvoo and told us to stay there we're glad they did.

Kansas City, KS
WE WILL RECOMMEND TO EVERYONE!!

We had the best time - We will recommend this hotel to everyone we know who is going to Nauvoo.

Palm Desert, CA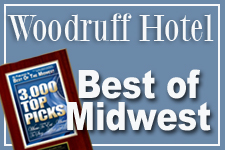 WINNER !!! THE WOODRUFF HOTEL IS THE WINNER OF THE MIDWEST LIVING MAGAZINE "BEST OF THE MID-WEST" AWARD

The Woodruff Hotel was honored with the BEST OF THE MIDWEST AWARD in August 2010 by Midwest Living Magazine. We were happy to also be featured in their list of "best places to eat, stay, and play in Nauvoo. We are happy to be recognized among the hotels in Nauvoo as one of the top hotels.

Midwest living magazine
BEAUTIFUL HOTEL IN NAUVOO

This is a great hotel. I have been in many hotels over the years. The ones we love the most are these historic hotels that still have the grand history and the beautiful decor. GREAT HOTEL !!

Lincoln, NE
BEST HOTEL IN NAUVOO

We simply adored this wonderful historic hotel. Gosh, I can't imagine what more I could say than it was simply wonderful. Thank you Woodruff Hotel for a beautiful place to stay, eat, and enjoy Nauvoo. It's the nicest place we have ever stayed in. Thank you !!

Chicago, IL
WE RECOMMEND IT TO ANYONE!!

Couldn't ask for a better hotel for our stay in Nauvoo. The room was clean, the staff very friendly and it's the best location in town ... across the street from the Nauvoo Temple. Would recommend this hotel to anyone.

Virginia
the best hotel we have ever stayed in!

We checked into the nicest room we have ever stayed in. The rooms were like some historic hotel in Washington D.C.. Our parents stayed in this hotel in Nauvoo last year and told us that we would love it too. Thank you Woodruff Hotel - we LOVED it.

Quincy, IL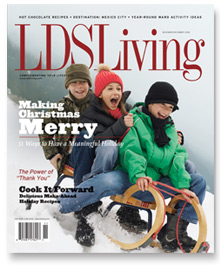 VOTED - BEST HOTEL IN NAUVOO

The Woodruff Hotel was honored with the BEST HOTEL IN NAUVOO by Midwest Living Magazine three years in a row. We were happy to also be featured in their article about top things to do in Nauvoo and our restaurant was listed as one of the best places to eat. We are happy to be recognized among the hotels in Nauvoo as one of the top hotels.

LDS Living Magazine
THANK YOU WOODRUFF HOTEL

Right when we got there we were in the hands of a really kind and helpful hotel staff. Alex made us a delicious meal from the kitchen even though we arrived after it closed. Karen not only helped us find our room but made sure we had everything we needed for our time in Nauvoo. Very good service from everyone at the hotel. Thank you. We owe a great trip to Nauvoo to the staff of the Woodruff Hotel. Beautiful hotel and excellent staff. March 2012 – From Draper, UT

Draper, ut
NAUVOO CHRISTMAS JOY

My family and my husbands parents spent the holidays in Nauvoo this year. Our hotel suite was like a cozy home. It was just so nice and comfortable. We will be back for sure and we highly recommend it to anyone ... we have already recommended to several of our family who plan to go to Nauvoo this summer. December 2011 – From Colorado Springs, CO

Colorado Springs, CO
Lovely place to stay

We loved staying at the Zion's Mercantile Hotel / Woodruff Hotel room 205. It was very tastefully decorated and the staff quickly met all our needs. The hallways, stairs, and room doors of the Woodruff are pretty rustic so you feel like you're going back in time; however once you enter your room, it is totally up to date. July 2011 – From Salt Lake City

SLC, UT
FABULOUS PERIOD HOTEL IN NAUVOO

Very clean, lovely rooms with early 1900's style furniture and a king size bed. Bathroom immaculate. Only draw back is no elevator in the old hotel if you are on the 3rd floor. Great to see Nauvoo temple lit up at night. Highly recommend! July 2011 – Pennsylvania

Pennsylvania, U.S.A.

THE WOODRUFF HOTEL & ZIONS MERCANTILE ARE MEMBERS OF THE NAUVOO HISTORIC DOWNTOWN DISTRICT

In 2011 the Nauvoo Historic Business District walking tour took first place in the State of Illinois and received the Illinois Governor's Hometown Award at a special ceremony held at the Governor's Mansion. We are proud to be a part of Nauvoo's remarkable Historic Business District. The Woodruff Hotel in Nauvoo Illinois is proud to be part of the this amazing historic district and the award given to Nauvoo.

NAUfoo historic business district
CLEAN & CHARMING

Very pleased with cleanliness. Cool location on the main street a block from the temple. Walls between rooms seem to be sound proof. Most comfortable hotel bed I have experienced in years. Wide gap below doors going into hall reduces some privacy. Overall very good.

Clearwater, FL
PERFECT EXPERIENCE OF NAUVOO

Our stay at Woodfruff Hotel - Zions Mercantile made our Nauvoo experience perfect! Our room overlooked the Nauvoo Temple. We arrived late in the evening and when we walked into our room and looked out our window, it was breathtaking. The building is an old remodeled of late 1800s. Even though it looked of age it was refreshing. The nostalgic decor and photographs and paintings helped make the atmosphere that much better. Staff was very nice. Made us feel like we were family. We will stay here again, next time we visit! We also recommend that you eat at the Zion Mercantile Store, next door. Great food! I think the best and the freshest in the area, that we found. THANK YOU

South weber, UT
WOODRUFF HOTEL & STAFF

My wife & I are so grateful to have found such a wonderful place to stay in Nauvoo. We took our trip to Nauvoo to celebrate our 15th wedding anniversary and we stayed in your anniversary suite (room 202). The view of the Nauvoo Temple, the hotel room, the gift basket with chocolate and Nauvoo grape juice was more than we expected. Very very beautiful hotel and an even better staff. Thank you so much for such a nice time.

Gilbert, AZ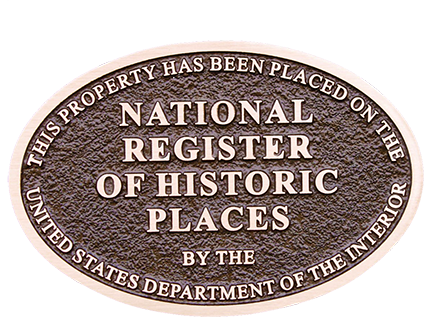 THE WOODRUFF HOTEL IS LISTED ON THE NATIONAL REGISTER OF HISTORIC PLACES

The Woodruff Hotel is honored to be placed on the National Register of Historic Places. The Woodruff Hotel is in the historic Temple House building which was first built in the 1840's and reconstructed in 1871 and is among Nauvoo's early original Nauvoo Hotels. We are happy to be recognized among the Nauvoo hotels and motels whcih serve guests from around the world.

National Register of historic places
DRENCHED IN HISTORY AND ART

There is no other place we could recommend as strongly as this one. We stepped outside onto our balcony and we were face to face with the Sunstones on the Nauvoo Temple. The hotel rooms were clean and so enjoyable. The beds were the best I've ever slept in. We even wrote down the make of the bed we loved it that much. Great hotel in Nauvoo !!

Newport Beach, CA
the best room in nauvoo

We stay in Nauvoo several times a year and have stayed in a variety of Nauvoo hotels and motels and houses on those stays. We have been in the Zions Mercantile store several times and did not know they had hotel rooms above the store. They are spectacular! We stayed in the Brigham Young Suite, which was much bigger than we expected. It was two huge bedrooms with a living room and kitchen area. It had an amazing view of the Nauvoo Temple all lit up and you could see down to the river. The room was clean, nicely furnished and warm. The service was great. The room was wonderfully comfortable. It had both satellite tv and a DVD player in the room. The restaurant below was wonderful. The chocolate cake is a must try. It is also located so close to everything else in Nauvoo. It is right next to all our favorite places to visit while I am there- the Nauvoo Temple, the Nauvoo fudge shop, the Nauvoo art gallery, the book store and on and on. This is by far the best Hotel we have had in Nauvoo or even most other locations we have traveled to.

Metamora, IL